How to apply your Be Glamourous 3D Lashes
TIP: When applying your lashes, place a mirror below you, so you can position the lashes while looking downwards. Do not apply mascara on Be Glamourous mink lashes. If you wish to use mascara, apply them on your own lashes first.
1. Handle with care
Remove lashes gently from tray with your hands or a tweezer, do not tug on the fur, only handle from the band.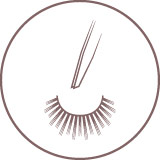 2. Measure & trim
Fit the lashes to base of your natural lash line, trim any excess from the outer corner.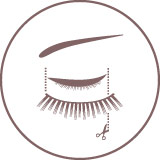 3. Apply lash glue
Apply lash glue along the entire cotton band and wait a few seconds for glue to become sticky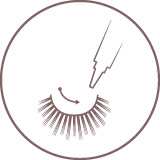 4. Adhere & hold
Apply the lashes to base of your natural lash line, and hold for a few seconds for it to dry.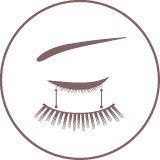 How to remove your Be Glamourous 3D Lashes
1. Dissolve Glue
Using a q-tip or your fingers, dab some oil-free eye makeup remover or water along the band of the lashes. Wait a few seconds for the glue to dissolve.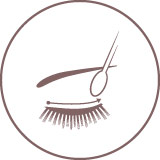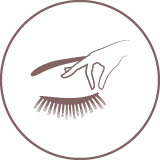 3. Peel off lash glue
Gently peel any remnants of lash glue off the lash band. This will keep your lashes lightweight and flexible, extending the life and comfort of your lashes.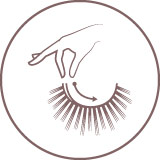 4. Store in casing after use
Keep your lashes in mint condition by storing them in their original casing after use, to prevent any unwanted dust, dirt, or debris from collecting.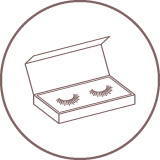 HOW TO SEW CLIPS TO YOUR EXTENSIONS
1.
Lay the weft clip on a flat surface. The front of the clip should face you. You'll know you have it right if the clip is convex to the surface and you can see a bar across the comb.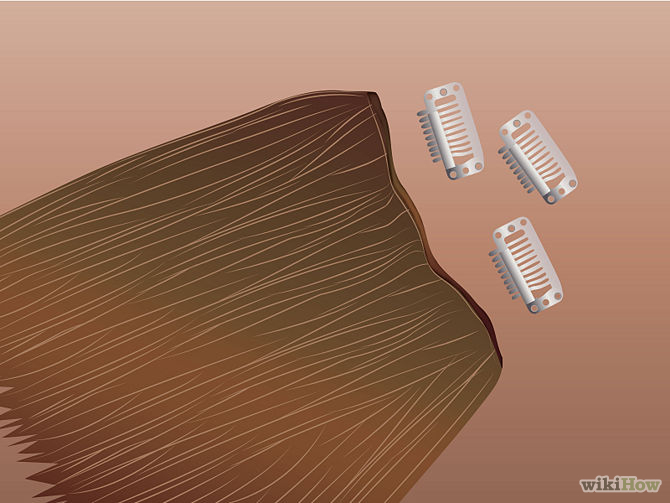 2.
Locate the 2 sewing holes on each side of the comb.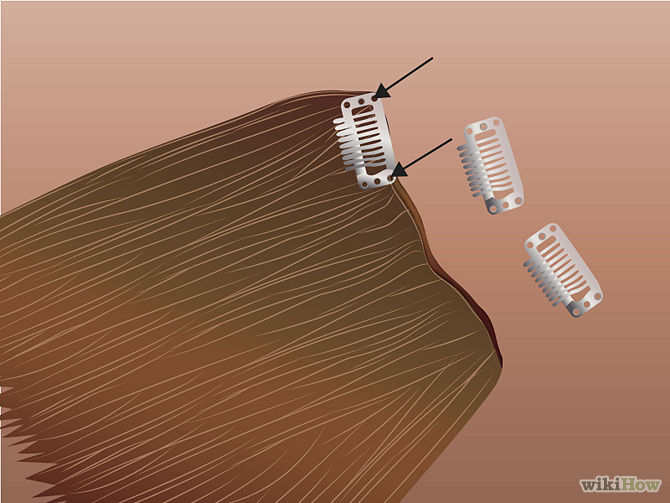 3.
Cut a strip of thread about 12 inches long. Beading thread is best, but you can also double up regular cotton thread.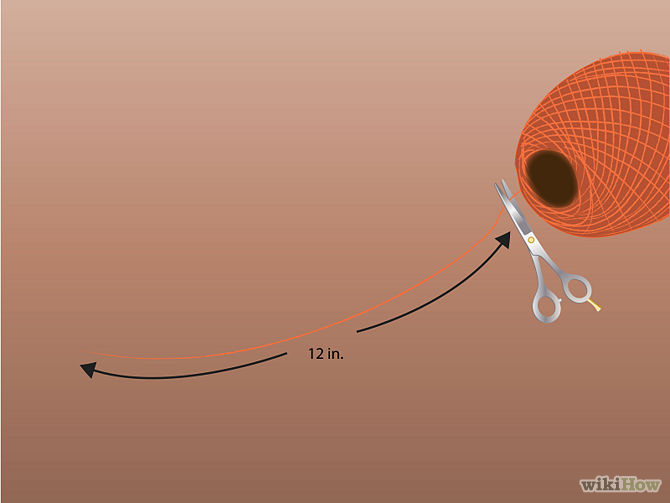 4.
Sew each side of the hair weft onto the weft clip. Knot the thread securely to the weft clip when you are finished.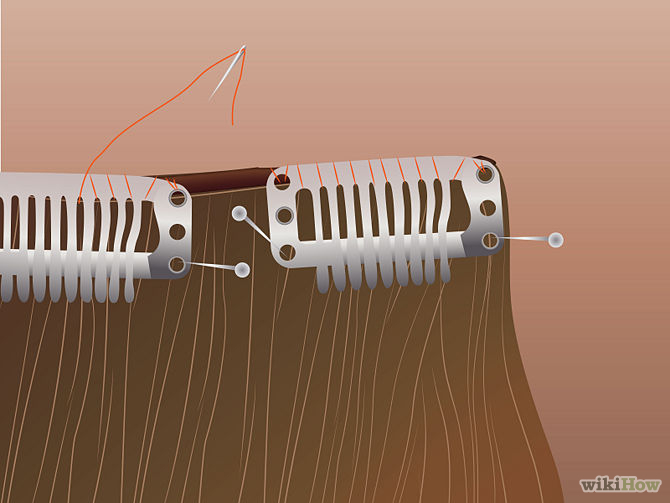 Don't worry! When it comes to hair extensions, we've got you covered!
Frequently asked questions
1. What is Remy Hair, and what makes it different from other types of hair extensions?
First and foremost, remy human hair extensions have a much longer life span than all other types of hair extensions and is the most natural looking because the cuticles are not stripped an remain aligned in one direction. Other human hair brands undergo a cuticle-stripping process called an acid-bath. Then, a silicone is placed over the cuticle to give the hair a false shine and smooth appearance. The silicone starts to wear off after being used by the customer after a couple weeks and returns back to its unruly state. Some brands also use synthetic hair which are not human hair at all. Made with man made materials. See picture on the right.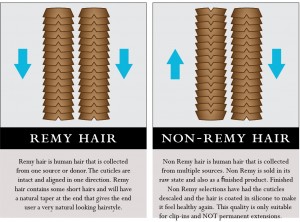 2. Is my hair too short for extensions?
Some extensions only come in packs of 100-120 grams. Our 180-300 gram, 8 pieces sets will give even short or thin hair the full and glamourous results. Though we do recommend you have at least 6″ of hair for best results. And if your hair is really short (6") our advice is not to order a set above 220 gram. It will be hard to cover the clips. But of course it's al up to you.
3. What are grams?
Grams are the weight of the hair extensions. Most hair extensions only come in 100 grams giving kind of a scraggly thin result. Be Glamourous hair carries 180-220-260-300 grams for the fullest most natural look for those who have thin to medium, medium to thick, and very thick hair.
4. How to take care of hair extensions?
Remember, Be Glamourous Hair Extensions are REAL human hair. Treat them as you would your own natural hair. Deep condition to keep hair extensions hydrated and use heat protecting sprays when styling.Wash extensions after 10-20 wears. Also refrain from overuse of hair products on extensions to prevent product build up. This would require you to wash hair too often and washing the extensions too often is not good for the hair.
5. How long will they last?
Be Glamaurous Hair Extensions should last you 6 months to a year depending on how well you take care of them. Refrain from overstyling and overwashing and they will last.
6. How do I blend extensions in with my hair?
Be sure not to put all extensions into one area. Spread extensions throughout entire head. From bottom to top with larger wefts in widest area of the head.
7. Can I style my hair extensions?
Yes. Be Glamourous Hair Extensions can be styled because they are real human hair.
Be Glamourous Hair Extensions are made using premium 100% natural remy human hair of the highest calibre. Our hair extensions undergo extensive manual processing to ensure that all shorter hairs are removed, and that the thickness stays the same from top to bottom. No more thin, wispy- ends!
8: Can I cut or colour my extensions?
Yes, you can cut or colour your hair extensions, but we strongly recommend to do it with a professional. Be Glamourous is not responsible for any damages once the hair extensions have been cut or coloured. Do Not Razor cut Be Glamourous Hair Extensions. Tip: Point cutting Be Glamourous Hair Extensions keeps the ends looking the most natural.
9: What are Undetactable Clip In Hair Extensions?
Undetectable clip in extensions are the invention of the founder of Be Glamourous. Normal clip in extensions are pieces of machine made weft, where the sew the clips on. Be Glamourous Clip In Hair Extensions are handmade on pieces of "skin". The extensions are completely natural looking and undetectable. Even if someone were to run their fingers through your hair, it is unlikely that they would really feel or see the addition. The hair looks like it's growing from your scalp.
Undetectable extensions are made by individually injecting the hair strands into a very thin "skin" type material that resembles a scalp (hand made). It is seamless, without bumps and is completely invisible!!! Plus because the "skin" is silicone like material, it will "stick" to you hair and will not slip out! It's Glamourous!
10: What is the difference between Be Glamourous and other brands?
First of all, Be Glamourous Hair Extensions & 3D Mink Lashes, are The World's thickest, most luxurious and glamourous hair extensions & 3D Mink Lashes.
Our extensions are made with 100% top quality human remy hair, (the cuticles are intacted) that does not shed, is tangle free and double drawn! Plus our clip in extensions are hand made and we use the special Undetectable method! We are super excited to offer the largest color of choice and even CUSTOM COLORS.
Our superior quality range is available in a large selection of 34 shades, including blondes, blacks, browns, reds and multi-tonal shades, ensuring you achieve the closest possible color match and the most natural looking result. Even if your haircolour is slightly different, Be Glamourous Hair Extensions blends amzingly well as it made with a multi-tone adapt colouring system.
The Be Glamourous 3D Mink Lashes are made with 100% CRUELTY FREE mink fur. The lashes are full, diamond black and feel and look like natural lashes. We only sell the special 3D lashes which are made to fit your eyes perfectly.
11: What are hair extensions with a cuticle?
Hair with a cuticle is shiny and healthy.
12: Will the clips damage my hair, or fall out while I'm wearing the extensions?
No, We use special U shape clips with a silicone insert to prevent any slipping or damage to your hair. U shape clips are made in a U shape in order to follow the curves of your head and to lay flat on your head without sticking out, like with many other clips. These clips are the best quality availible on the market. Each clip will match the colour of your hair extensions to blend perfectly with your natural hair.
13: What if my order is defective or my extensions have a broken clip?
If a product is defective please send a photo of the defect along with a description to customer service at customerservice@be-glamourous.com and we will gladly help you to resolve the issue. Although it's an inconvenience, broken clips are an easy fix, as there are 2 extra clips included with each set of hair extensions & instructions HERE on how to replace the clips so that you can start wearing your Be Glamourous hair asap.
14: In which order do I apply my clip in hair extensions?
If you had your clip in hair extensions cut into layers, it's important to place them in the right order. To make sure you place them in the right order, you can mark them with nailpolish. For examples with dots; 4 dots for the bottom extensions, 3 dots for the one above the bottom extensions etc. For left and right just place an L or R on your extensions.
15: What is the difference between Mink vs Synthetic lashes & lash extensions?
The main difference between synthetic and mink lashes is in the quality. Because mink is 100% natural fur, it provides a natural shine, is super lightweight and flexible, gives a feather like look. Where as synthetic eyelashes are cheaper, irritating to the eye, unnatural when worn, and can feel a lot heavier than mink lashes. Mink eyelashes are considered a premium high end product when compared with synthetic ones. Plus mink lashes can be re-used up to 30 times, while synthetic will last up to 1-2 wears. Lash extensions are usually made of mink lashes, but require constant maintenance and get costly with professional application. And a lot of people get eye irritations of the glue used with the application.
16: How many times can 3D Lashes be worn?
With proper care lashes can be worn up to 30 times, whereas synthetic lashes only last about 1-2 wears. While lash extensions require constant maintenance and get costly with professional application.
17: How is the mink sourced?
Our mink lashes are cruelty-free. They are handcrafted from mink sourced ethically.
Be Glamourous uses lashes that are made up of 100% natural siberian mink fur, which has been gently brushed from live mink and sterilized to ensure that it is hypoallergenic. We would like to make clear that no harm has been done to these beautiful animals. Unlike synthetic lashes, our 100% natural mink fur is free from any chemical processing and dye which allows for an extremely soft, lightweight, and natural look.
18: Can I wear mascara on my lashes?
No, mascara will ruin the quality of the hair. Love your lashes and only apply mascara to your natural lashes if needed.
19: What is the difference between normal and 3D lashes?
With 3D lashes the band is designed with a natural curve that will fit your eye perfectly.
20: Are Be Glamourous lashes stackable?
Yes, because they are lightweighted, they are perfect to stack.
If you are looking for those lucious, full, sexy & glamourous lashes, we advice to purchase our Be Glamourous or Queen B lashes.  They have the look of stacked lashes.
21: Why are the lashes more expensive than other lashes?
Our 3D Mink Lashes are not more expensive. You can re-use our lashes up to 30 times, while cheaper lashes you can use up 1-2 times. The lashes are handmade, custom designed and are made of 100% cruelty free mink fur.
Plus the difference between normal mink lashes and the Be Glamourous 3D Lashes are that our lashes are 3D. That means the design of the band is 3D (in the shape of een eye) and will fit every eye perfectly.
Every pair of lashes comes with glue, you can choose between 3 colours glue.
We also have a more budget friendly line in our collection, our Faux Mink lashes.
Be Glamourous is a high end brand.
22: Is it difficult to apply the 3D Lashes?
Be Glamourous 3D Lashes are very easy to apply cause of the 3D flexible cotton band, that will fit every eyeshape perfectly! Other false lashes can be hard to apply cause of the band. Our lashes are suitable for those who have a hard time applying false lashes. Once you've tried our lashes, you wouldn't want anything else!!!
23: Can I wash my 3D Lashes?
You can wash your lashes. Don't soak!  If you own genuine mink lashes, you should be relatively quick when it comes to placing your new furry friends under water. This is to make sure that the lash tips don't lose their curl. Yes, high quality genuine mink lashes are both sterilized and treated to keep a permanent curl, however, remember that this is a natural product, and as such, it might be affected by excessive soaking.
Don't use harsh chemicals!  Soap/gentle hypoallergenic cleanser and water only! Remember, water is a universal solvent and if you're trying to figure out how to clean false eyelashes with an overpowered chemical cleanser, you simply aren't going to do anything aside from damage the fake lashes.  Soap and water might not seem like they will be very effective and you may want to be tempted to use an eyelash glue remover instead, however to properly prepare them for reuse, soap/cleanser and water are the best tools to use.
Rinse!  It's not just the cleaning off of the glue that's important. Remember, you're figuring out how to clean false eyelashes to reuse again, and that means they're headed right back into your eyeball area.  If they're dirty or still covered in soap residue, your next application could be uncomfortable at best and painful at worst. Make extra sure that you rinse your lashes before drying and storing in the box coming with the lashes. Cleaning your lashes is not only removes the adhesives used, it's also essential to removing eye makeup and bacteria that can create irritation and even infection.
24: How do I wash my 3D Lashes?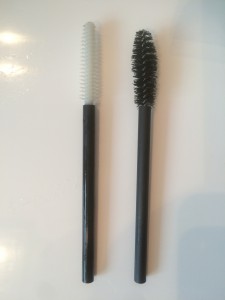 First carefully remove the adhesive of the lashes with a tweezer. Than fill the washbasin with luke warm water and add some antibacterial soap. Put your lashes in the water for max. 10 seconds. Use a disposable comb mascara wand (see picture) to remove any make up/mascara, make sure you rinse your wand in the water a few times. After you removed all the make up/glue etc, quickly rinse your lashes with clean water. Take a disposable fluffy mascara wand (see picture) to brush out the lashes, before placing them back in the box coming with the lashes to dry.
25: What are 3D Faux Mink Lashes?
These lashes are the same like the other lashes, except that 3D Faux Mink Lashes are vegan friendly and are made of silk like luxury fibers.
26:What are 3D Mink Band-Less Lashes?
These lashes are the same like the other lahes except for the band to be completely invisible. They are super comfortable.
27: Does Be Glamourous also accept custom orders?
Yes, we accept custom orders, just send us an e-mail; customerservice@be-glamourous.com. We will reply within 24 hours. With custom we mean different colours, lenghts, grams and also weaves, tape, U/I extensions, lace wigs, ponytails and many more!
28: Is the Be Extra! Highlighter Palette suitable for all skintones?
Yes, our palette contains 4 colors, suitable for all skintones, from fair to deep dark.